by Rachel Voorhees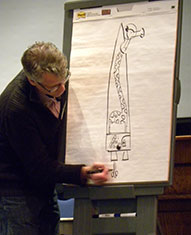 Author and keynote speaker Tom Lichtenheld drawing

In an age when technology is the primary focus of young people, it's important to acknowledge books and the people who continue to keep alive students' interest in reading. On October 18, on Adelphi University's Garden City campus, the Nassau Library System hosted Lit-Fest, a conference cosponsored by the Ruth S. Ammon School of Education and the Long Island School Media Association that brought together authors, librarians, educators and young readers.
First held in 1990, Lit-Fest has paved the way for other conferences of its kind, said Renee McGrath, manager of youth services for the Nassau Library System. The focus at Lit-Fest is on literature for children and young adults.
"It's wonderful to celebrate books; it's what we're about," said Judith Cohen, Ph.D., a literacy professor at Adelphi for 35 years. "We need to surround children with books, both to educate and inspire them."
Adelphi is the venue for Lit-Fest because of Ms. McGrath's long-standing association with the University. Her two children graduated from Adelphi in 2010 and 2012, respectively. She has also worked with Adelphi faculty such as Dale Flashner, M.A. '84, director of the graphic design studio, on logo designs for the New York Library Association's Youth Services Section and the Long Island Library Conference.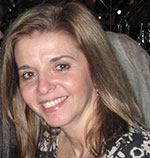 Renee McGrath

"I'm always here," Ms. McGrath said. "Adelphi is a truly wonderful place to be."
Lit-Fest 2013 featured New York Times' bestselling authors Tom Lichtenheld and Margaret Peterson Haddix as the keynote speakers. Both were eager to share their experiences about writing for children.
"I love talking to librarians and educators to find out what my books mean to them," said Mr. Lichtenheld, who has written or illustrated 16 books including Duck! Rabbit! and Goodnight, Goodnight, Construction Site.
"We're all book people," added Ms. Haddix, author of 25 books including Into the Gauntlet and Leaving Fishers.
Students, educators and librarians from schools across Long Island listened to the keynote speakers, participated in workshops and discussion groups and took a tour of Adelphi's Swirbul Library. Librarians learned about the research and creative processes involved in making children's books, and the discussion groups allowed participants to share teaching ideas for a variety of books.
Keith Klang, a librarian at the Port Washington Public Library and leader of the Guys Read discussion group, said keeping children, particularly boys, interested in reading is a librarian's most important task.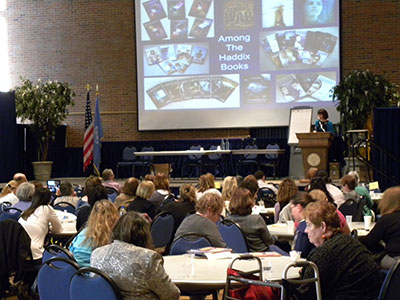 Author and keynote speaker Margaret Peterson Haddix addressing the attendees at Lit-Fest

"My goal is to help other librarians reach boys in a better way," Mr. Klang said. "If a young boy loses interest in reading, he may never get it back or it might not be until high school or college when he gets it back. In between that time [when he wasn't reading] he could have been improving his reading skills."
Among the books discussed at Lit-Fest were Charlie Joe Jackson's Guide to Summer Reading by Tommy Greenwald and You Never Heard of Willie Mays?! by Jonah Winter—books geared toward a young male audience.
Attendees look forward to this semiannual event at Adelphi and put into practice what they learn after the conference is over. Lit-Fest allows educators and librarians to share ideas on how to keep children engaged in reading, and to share with peers their passion for literature.
"We are lovers of stories," Ms. McGrath said. "We know how special these books are and it's great to come together to talk about them."          
About Adelphi: A modern metropolitan university with a personalized approach to higher learning.
Adelphi University is a highly awarded, nationally ranked, powerfully connected doctoral research university offering exceptional liberal arts and sciences programs and professional training with particular strength in its Core Four—Arts and Humanities, STEM and Social Sciences, the Business and Education Professions, and Health and Wellness. Adelphi is dedicated to transforming students' lives through small classes, hands-on learning and innovative ways to support student success.
Founded in Brooklyn in 1896, Adelphi is Long Island's oldest private coeducational university. Today Adelphi serves nearly 8,000 students at its beautiful main campus in Garden City, New York—just 23 miles from New York City's cultural and internship opportunities—and at dynamic learning hubs in Manhattan, the Hudson Valley and Suffolk County, and online.
More than 100,000 Adelphi graduates have gained the skills to thrive professionally as active, caring citizens, making their mark on the University, their communities and the world.