by Cecil Harris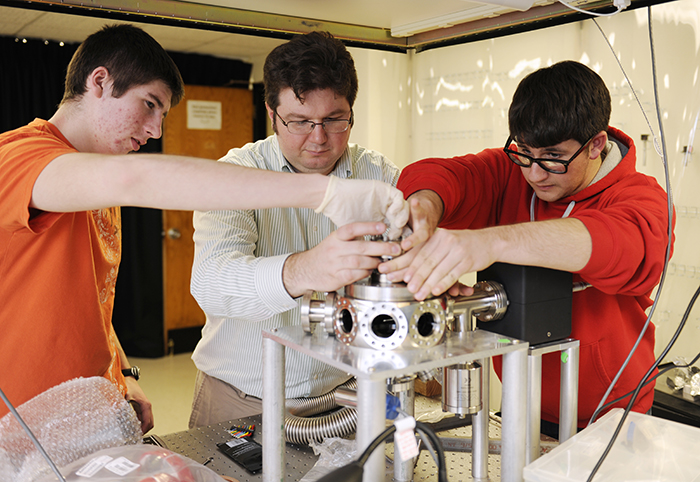 When Matthew Wright, Ph.D., an assistant professor of physics in the College of Arts and Sciences, delivered a well-received presentation, "Being Successful at Adelphi," to incoming freshmen at the 2014–2015 Orientation, he touched upon four central themes:
Go All-In.
Collaborate.
Think for Yourself.
Embrace Failure.
Dr. Wright told the new students how he had gone all-in after reaching a career crossroads several years ago:
"I had a Ph.D. in Molecular and Atomic Physics from the University of Connecticut, and I was in a prestigious research position in Innsbruck, Austria. But my wife and I wanted to move back to the U.S. We loved Austria. It's a great country. But their primary language is German. We came back to the U.S.
"Wanting to change things up, I took a job as a management consultant/IT consultant at a company in the transportation industry. But after three years of that, I knew that I wanted to get back into academics and become a physics professor. I'd always known I wanted to teach, but it didn't really hit home until I had left that possibility. It took three years of doing something else to realize, hey, I really want to be in a classroom. Sometimes you have to give up a lot to go after your dream."
The consulting job was lucrative, but Dr. Wright said he has no regrets about leaving it. Today he derives satisfaction from helping students master physics. And the years he spent as a consultant have helped him develop his teaching style.
"Where I worked, the boss and everybody else sat around a table and worked together to find solutions," he said. "I do that now with my teaching. I bring groups of students together and talk with them about how to solve a physics problem rather than just tell them what to do. Every student has a voice. It's important to hear all those voices."
That example of collaboration is as clear as his description of going all-in. In his Orientation speech, Dr. Wright also urged students to think for themselves and embrace failure. Embrace failure?
"If you ask venture capitalists for one million dollars to start a business, they'll ask you to tell them about a time you failed," he said. "They want to know that if they give you the money, you're not going to run for the hills. You're going to use it and keep fighting until you succeed. You still may fail, but you're going to fail gracefully and learn from it and grow. That's true in physics and in life. Being successful can mean failing many times until you learn to do it right."
---
This article appeared in the Spring 2015 edition of The Catalyst, the College of Arts and Sciences newsletter.
About Adelphi: A modern metropolitan university with a personalized approach to higher learning.
Adelphi University is a highly awarded, nationally ranked, powerfully connected doctoral research university offering exceptional liberal arts and sciences programs and professional training with particular strength in its Core Four—Arts and Humanities, STEM and Social Sciences, the Business and Education Professions, and Health and Wellness. Adelphi is dedicated to transforming students' lives through small classes, hands-on learning and innovative ways to support student success.
Founded in Brooklyn in 1896, Adelphi is Long Island's oldest private coeducational university. Today Adelphi serves nearly 8,000 students at its beautiful main campus in Garden City, New York—just 23 miles from New York City's cultural and internship opportunities—and at dynamic learning hubs in Manhattan, the Hudson Valley and Suffolk County, and online.
More than 100,000 Adelphi graduates have gained the skills to thrive professionally as active, caring citizens, making their mark on the University, their communities and the world.