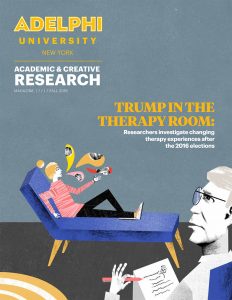 As teachers and mentors, Adelphi faculty members are helping to transform the lives of their students. As researchers, they're helping to transform society.
Adelphi's just-published Academic and Creative Research Magazine takes a look at the recent work of 23 of the University's scholars. It's work that promises to have an impact on healthcare, education, business practices, science, the environment and the arts.
The magazine also highlights research that faculty members conducted in collaboration with their students. The cover article, "Trump in the Therapy Room," presents research published by the dean of the Gordon F. Derner School of Psychology, Jacques P. Barber, Ph.D., and Nili Solomonov, Ph.D. '18, into the impact of current politics on the therapeutic process. Another article, "A Life Fully Lived," explores the collaborative effort by an undergraduate at this time, Melissa Jacob '16, and Steven R. Cox, Ph.D., assistant professor in the Department of Communication Sciences and Disorders, into health issues affecting transgender individuals.
The Academic and Creative Research Magazine is full of other articles on fascinating research being conducted at Adelphi, including:
Mathematical models that predict the incidences of cancer in transplant patients, created by Josh Hiller, Ph.D., assistant professor of mathematics and computer science.
The development of innovative approaches to teaching science in multilingual classrooms, by colleagues in the Ruth S. Ammon School of Education—Tracy Hogan, Ph.D., and Daryl Gordon, Ph.D.—and Corinne Donovan, formerly of the Ammon School.
Adjunct professor of nutrition Tracy Stopler's work as a child victims' advocate and her book The Ropes That Bind, about the trauma she suffered—and eventually overcame—as a victim of sexual abuse.
Research into the role social entrepreneurs are playing in bringing renewable energy technologies to rural India, by professor and department of management chair Gita Surie, Ph.D.
The new historical oratorio, Sanctuary Road, based on the memoirs of a conductor on the Underground Railroad, by University Professor and Pulitzer Prize–winning composer Paul Moravec, D.M.A.
To read these and many more articles about the innovative and important work being done at Adelphi, click here to access the online version of the magazine.
About Adelphi: A modern metropolitan university with a personalized approach to higher learning.
Adelphi University is a highly awarded, nationally ranked, powerfully connected doctoral research university offering exceptional liberal arts and sciences programs and professional training with particular strength in its Core Four—Arts and Humanities, STEM and Social Sciences, the Business and Education Professions, and Health and Wellness. Adelphi is dedicated to transforming students' lives through small classes, hands-on learning and innovative ways to support student success.
Founded in Brooklyn in 1896, Adelphi is Long Island's oldest private coeducational university. Today Adelphi serves nearly 8,000 students at its beautiful main campus in Garden City, New York—just 23 miles from New York City's cultural and internship opportunities—and at dynamic learning hubs in Manhattan, the Hudson Valley and Suffolk County, and online.
More than 115,000 Adelphi graduates have gained the skills to thrive professionally as active, caring citizens, making their mark on the University, their communities and the world.