by Bonnie Eissner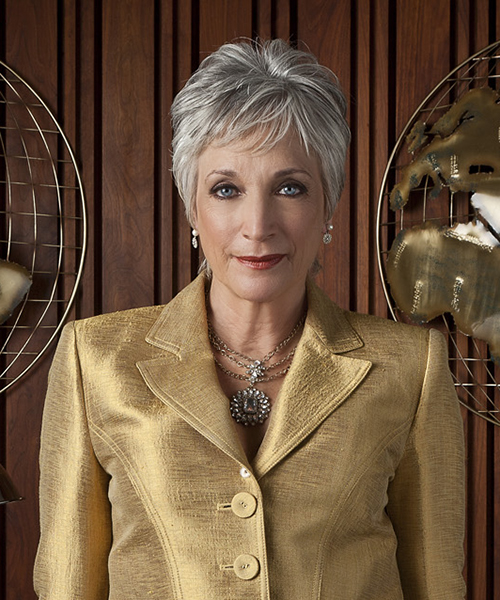 If you followed season four of AMC's hit drama Mad Men, you know Miss Ida Blankenship. On-screen for just a few episodes, the wisecracking secretary with the nasal New York accent stole viewer's hearts and inspired a Facebook fan page. She brought comedy to the show and was mourned on-screen and in the Twitterverse when, in episode nine, she died at her desk—her horn-rimmed glasses slamming down with a final thud. As one character quipped, "She died as she lived—surrounded by the people she answered phones for."
Even if you kept up with the show, though, you may not know that an Adelphi alumna—Randee (Antzis) Heller '69—played the incomparable Miss Blankenship. You might also be surprised to know that Heller previously played Lucille LaRusso, the mother of Ralph Macchio's Daniel in The Karate Kid (and The Karate Kid, Part III). Her stint as Miss Blankenship and the Emmy nomination it garnered were welcome highlights in a long career.
Heller has a natural sense of humor and frequently found funny twists to her life and early career as we spoke about them by phone. She was born in Brooklyn and grew up in West Hempstead, New York—experiences that gave her plenty of fodder for her New Yawk accent on Mad Men. She came to Adelphi after a stint at Emerson College, which taught her that, in her own words, "I didn't want to be away from my mommy."
Heller remembers studying with Jacques Burdick, the founder of Adelphi's theatre program, who passed away last year. "He was doing some really experimental theatre," she recalled. At the time, Adelphi's theatrical productions took place in the Little Theatre—a lightly renovated Quonset hut. Heller joked, "So I could either go into show business or join the military."
Her first big break came when she was cast in an off- Broadway production of Godspell the summer after she graduated from Adelphi. "There were like 500 kids and I was number 37; I'll never forget it," she recalled.
A few more off-Broadway roles followed before she was hired to play Rizzo in the Broadway production of Grease. "That was probably one of the best times of my life," she said. "You know, just being in New York and on stage, it was fantastic." She had no plans to leave, but fate called her away. Or, rather, being cast in the television sitcom Husbands, Wives and Lovers took her to Hollywood. So, in 1978, as a new mom, she left the Big Apple for good.
A year later, in 1979, Heller drew attention for her portrayal as Alice—the first recurring homosexual female character on television—in the sitcom Soap. It was a bold move for a young actor and Heller recalled her hesitancy. She had no problem playing the role but worried about being typecast because of it. Friends like Judd Hirsch and Mary Lou Henner encouraged her to take the part. She did, without regret, but in a 2012 interview with a blogger at The Huffington Post, she recalled the challenges it involved: "It was so careful and delicate in those days that you really couldn't do your thing…They wanted me to appear very straight and very middle of the road so that America could digest this and not be offended in any way."
Then came The Karate Kid. It's hard to believe that when Heller read lines with Ralph Macchio he was a little-known actor. "The first time I met Ralph, I…couldn't believe he was 16 years old," Heller said. "I'm looking at him and I'm going, 'Jeez, he's so mature and later I found out he was 22." At just 35 herself, she played his loving, divorced single mother. "We had immediate chemistry," she said.
As impressive as she found the script and director—John Avildsen, who had directed Rocky—Heller had no idea that the film would become a classic. "In fact, Ralph and I, for the first couple of days, would say, 'Oh, let's try to think of another name for this. This is just such as cheesy name,'" Heller recalled.
After The Karate Kid, Heller largely returned to television, playing a string of smaller roles in well-known series. Asked if there's a secret to sustaining a long career in Hollywood, she said, "There's no secret. I go. I do the best I can, and if I get [the role], that's great and if I don't, well, that's the way it goes. That's show business. You know, it's frustrating, but, look, I've hung in this long, so I intend to go for the long run."
Heller is a survivor. In 1999, at age 51, she was diagnosed with breast cancer and underwent a double mastectomy. She was still being treated with chemotherapy and radiation when her agent called her about an audition for a part he couldn't reveal. "'I'm bald and I'm pretty sick," she recalled thinking, but he urged her to go. The covert job turned out to be a role as Barbara Streisand's mother in an onstage routine during the singer's Timeless tour. Heller landed it and made do with wigs and berets. "It was like a gift from heaven," she said of the experience.
In 2002, Heller nearly left acting for good. She returned to school to earn a degree teaching English as a second language and for eight years taught in adult education schools. "I loved it, and I got so much gratification out of it, and I never thought I'd go back," she said.
Eventually, she did, and her Mad Men stint and Emmy nomination prove that she still has her comedic gifts. Of playing Miss Blankenship, Heller said, laughing, "She was, like, hiding out in me—this old lady—and it just kind of happened. I can't explain it." Of course, strong writing, a superb cast and fantastic costumes and makeup helped, Heller admitted.
The producers were always careful to keep the Mad Men plot a secret— even from the actors, and Heller said she had "no idea that they were going to kill me off" in her sixth appearance on the show. She learned about it the week before from the show's creator and executive producer Matthew Weiner, who reassured her, "It's going to be one of the best deaths on television." Her exit was, in Heller's words, "arduous." "They actually had a stunt guy there because to fall forward on your head is not an easy thing," she said.
Even more surprising for Heller was being nominated for an Emmy. "It was a dream…I had no idea that doing six episodes would lead to an Emmy nomination," she said.
When asked if she would change anything about her career, Heller first retorted, "Yeah, I'd make more money." Then she added more reflectively, "I think that sometimes I feel, not regret, but I wish that I had maybe stayed in theatre in New York a little longer. I still have dreams about doing stage because that's my favorite. There's nothing like it to me."
This piece appeared in 
AU VU
,
 Fall 2014 issue.
About Adelphi: A modern metropolitan university with a personalized approach to higher learning.
Adelphi University is a highly awarded, nationally ranked, powerfully connected doctoral research university offering exceptional liberal arts and sciences programs and professional training with particular strength in its Core Four—Arts and Humanities, STEM and Social Sciences, the Business and Education Professions, and Health and Wellness. Adelphi is dedicated to transforming students' lives through small classes, hands-on learning and innovative ways to support student success.
Founded in Brooklyn in 1896, Adelphi is Long Island's oldest private coeducational university. Today Adelphi serves nearly 8,000 students at its beautiful main campus in Garden City, New York—just 23 miles from New York City's cultural and internship opportunities—and at dynamic learning hubs in Manhattan, the Hudson Valley and Suffolk County, and online.
More than 100,000 Adelphi graduates have gained the skills to thrive professionally as active, caring citizens, making their mark on the University, their communities and the world.