Leaders who want their workforces to innovate must give up the notion that they can predict or control the outcome.
The secret to business innovation and sustainable social entrepreneurship lies in complexity science, according to Jeffrey Goldstein, Ph.D., a professor at the Robert B. Willumstad School of Business. One of the most important ideas of the field is emergence: when new unexpected patterns arise in a complex system. "Social entrepreneurship is the emergence of a new kind of structure" and a new kind of business strategy, explains Dr. Goldstein, who, with Adelphi colleagues James Hazy, Ed.D., and Joyce Silberstang, Ph.D., organized a social entrepreneurship conference and wrote papers and a book about the resultant discussions.
According to complexity theory, emergence relies on the combination and recombination of different elements, with an unpredictable result. Since you can't control the outcome, you can only try to create appropriate conditions that aim to create an organization or community that is adaptable, no matter what the path forward turns out to be.
"When you think about social entrepreneurship, it's different social groups coming together," whether bankers, business leaders, investors, non-governmental organizations and government, Dr. Goldstein says. "It's a complex interrelationship of subsystems at different levels of the hierarchy…People who have business knowledge, people who have knowledge of the local conditions. You're going to have people with all different skills."
Similarly, leaders who want their workforces to innovate must give up the notion that they can predict or control the outcome, and instead focus on two simple goals: (1) creating conditions that encourage social interactions where new ideas are combined and recombined; and (2) building an adaptable organization. That means encouraging the exchange of information across the company and across levels of hierarchy, and social networks that will facilitate open communication.
"The people on the factory floor: they're the ones that have the new ideas," says Dr. Goldstein, who with Dr. Hazy has conducted relevant business case studies. "We want organizations to learn from each other and then turn around and do what they need to do" in their own organizations and communities, says Dr. Goldstein, adding, "Get the engineers in with sales people, finance people."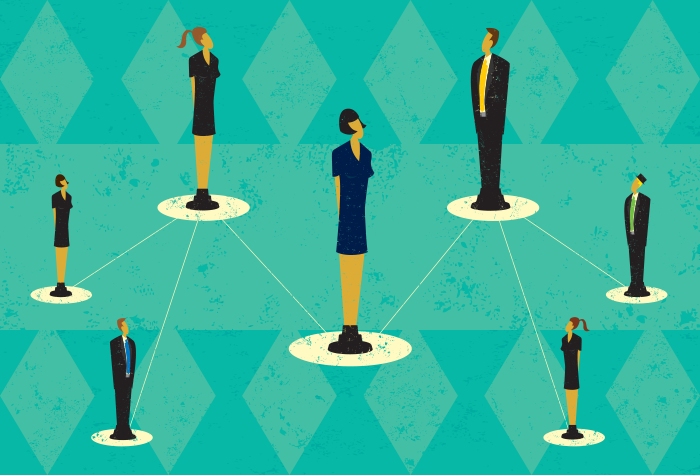 This piece appeared in the
Erudition
2014 edition.