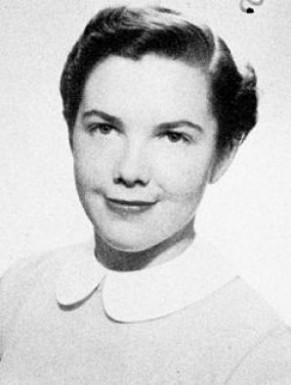 Growing up in
Hastings-on-Hudson
, Ruth (Cook) McShane says she never gave college a thought until her physical education teacher at Hastings High, Ida. L. Menne, suggested she apply. After graduating, her first job was teaching elementary school and in one way or anther she's been in education ever since.
"My Dad worked at a local gas station and he mentioned to a customer that I had applied to Adelphi University. It turned out she'd been a classmate of Ruth S. Harley when Adelphi was still in Brooklyn. When I got to Adelphi, Ruth Harley, the Dean of Women, called me by first name. It made me very comfortable. "
After three years of teaching, Ruth McShane took time off to raise a family. Three children and 15 years later, she returned to Adelphi, starting out as in a part-time hourly clerical job as a typist for Ron Feingold, who was the chair of the Physical Education Department. As she moved from part- to full-time in positions of increasing responsibility, she also earned both her master's and doctoral degree at Adelphi.
Ms. McShane is the Assistant Dean, College of Arts and Sciences.
---
Excerpted from A Look Back, Adelphi University Magazine – Web, Fall 2009 by Abby Ptachik and Lauren Kalish.