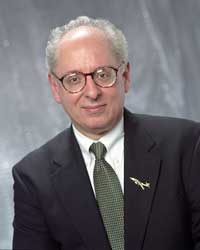 Adelphi University Dean
Sam L Grogg, Ph.D.
On February 5, Dean of the  College of Arts and Sciences at Adelphi University, Sam L Grogg, Ph.D., will deliver the talk "Oscars Exposed: A Look Behind the Scenes." The event, sponsored by the Community Club of Garden City and Hempstead, will take place at the Garden City Casino, 51 Cathedral Avenue in Garden City at 1:30 p.m. Guests passes are $5.00 and may be purchased at the door.
Grogg, a member of the Motion Picture Academy for more than 20 years, will present a behind the scenes look at how the Oscars are determined, the work of the Academy and the influence of the Oscars on culture, art and commerce.  "The Oscars are probably the most well known awards on the planet," says Dr. Grogg.  "It is really amazing how the votes of only a few thousand members fascinate hundreds of millions around the globe."
Dr. Grogg, the former dean of the School of Communication of the University of Miami, became dean of Adelphi's College of Arts and Sciences in June 2011. A noted film producer whose financing and producing credits include Kiss of The Spider Woman and The Trip to Bountiful both pictures garnering numerous Oscar nominations and receiving Best Actor and Best Actress Academy Awards. He has executive produced or produced numerous theatrical and television films, including DA, Patti Rocks and Spike of Bensonhurst. In 1989, he and Oscar-winning visual effects artist John Dykstra founded Magic Pictures, where Dean Grogg was involved in numerous visual effects productions, television commercials, large format presentations for theme parks and other productions. He has been a member of the Academy of Motion Picture Arts & Sciences since 1986 and was the founding dean of the School of Filmmaking at the North Carolina School of the Arts.
At University of Miami, Dean Grogg led numerous innovations, including expanding its campus media, establishing the Knight Center for International Media, executive produced One Water, a television special narrated by Martin Sheen, and oversaw a complete revision of the School's curriculum while greatly increasing philanthropic support.
Over the course of his career, Dean Grogg has won several prestigious awards, include being honored by the Directors of the Online News Association for his work to advance multimedia journalism in 2010; American Film Institute Board of Trustees in 2004 as the fourth "Master" teacher and filmmaker to lead the Conservatory since its founding in 1967; William R. Butler Award for Support of Student Government in 2006; and the Ray and Pat Browne Lifetime Achievement Award for his contribution to the study of popular culture from the National Popular Culture Association in 2005.
Dean Grogg holds a Ph.D. degree with a specialization in popular culture and film from Bowling Green University. His wife, Susan, is a teacher, acting coach and former stage and motion picture actress. Together, they have two children, Zubin and Brady.
Read more about Adelphi University's College of Arts and Sciences.
About Adelphi: A modern metropolitan university with a personalized approach to higher learning.
Adelphi University is a highly awarded, nationally ranked, powerfully connected doctoral research university offering exceptional liberal arts and sciences programs and professional training with particular strength in its Core Four—Arts and Humanities, STEM and Social Sciences, the Business and Education Professions, and Health and Wellness. Adelphi is dedicated to transforming students' lives through small classes, hands-on learning and innovative ways to support student success.
Founded in Brooklyn in 1896, Adelphi is Long Island's oldest private coeducational university. Today Adelphi serves nearly 8,000 students at its beautiful main campus in Garden City, New York—just 23 miles from New York City's cultural and internship opportunities—and at dynamic learning hubs in Manhattan, the Hudson Valley and Suffolk County, and online.
More than 100,000 Adelphi graduates have gained the skills to thrive professionally as active, caring citizens, making their mark on the University, their communities and the world.