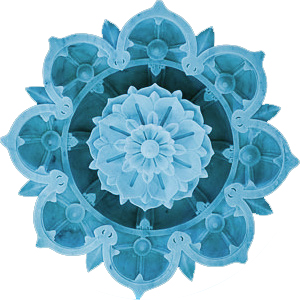 by Bonnie Eissner
Robbinsville Township, a small, largely white community in New Jersey, is about 7,600 miles from Gujarat, India. But the two regions have become inextricably linked. In 2014, Robbinsville became the new home of a carved stone mandir, or temple, constructed by Bochasanwasi Shri Akshar Purushottam Swaminarayan Sanstha, also known at BAPS, a Hindu devotional community originating in Gujarat.
The large and elaborately carved Robbinsville mandir is just one expression of the rapid growth of BAPS. Founded in Gujarat a little more than 100 years ago, BAPS has become a transnational movement with more than one million members. Hanna Kim, Ph.D., an associate professor of anthropology at Adelphi's College of Arts and Sciences, is writing the first ethnography, or scholarly book based on fieldwork, on BAPS and the factors behind its impressive reach. Earlier this year, she won a Franklin Research Grant from the American Philosophical Society, which will fund upcoming research trips to India, Africa and the Middle East. "Any place you find Gujaratis, you will find BAPS devotees," Dr. Kim said.
Dr. Kim said that BAPS temples and temple complexes, the latter known as Akshardham, are "rich sites for exploring changes in culture, attitudes and ideas about identity, spaces, migration and the particular means by which" BAPS has grown.
The numbers are staggering. In the United States alone, there are 80 BAPS temples, six of which are entirely carved out of stone, including the Robbinsville mandir, which encompasses 11,600 square feet and is surrounded by 160 acres of grounds that are still under development. The BAPS guru, Pramukh Swami Maharaj, was recognized by Guinness World Records in 2008 for inaugurating the largest number of temples—713 at the time. The BAPS Akshardham temple complex in New Delhi, India, also set a Guinness world record for being the largest comprehensive Hindu temple in the world, at more than 86,000 square feet. Open to the public, it contains a mandir as well as a large-screen movie theatre, among other attractions.
Dr. Kim's research has led her to travel to Gujarat and other BAPS sites. "It's really very striking, the very strong sense of connectedness that all these communities have," she said.
Dr. Kim attributes the connectedness to a number of factors, including the centralization of BAPS teachings. "They have their own publishing firm that cranks out books in all different languages that are in all the temples around the world," she said.
Extensive travel by Gujaratis who are members of BAPS is another reason for the community's connectedness and growth. Followers journey to visit temple sites, attend festival events and see family around the world. Dr. Kim has documented how, upon seeing the guru in person and becoming inspired by his qualities, some male devotees have decided to become sadhus, or monks, who renounce family ties and interactions with women, among other behavioral changes, to devote themselves to serving their guru and BAPS.
The sadhus, now numbering more than 900, are part of the sophisticated organizational structure of BAPS. Sadhus in Ahmedabad, Gujarat, for example, managed the construction and design aspects of the New Delhi Akshardham.
This piece appeared in the 2015 issue of Erudition.
About Adelphi: A modern metropolitan university with a personalized approach to higher learning.
Adelphi University is a highly awarded, nationally ranked, powerfully connected doctoral research university offering exceptional liberal arts and sciences programs and professional training with particular strength in its Core Four—Arts and Humanities, STEM and Social Sciences, the Business and Education Professions, and Health and Wellness. Adelphi is dedicated to transforming students' lives through small classes, hands-on learning and innovative ways to support student success.
Founded in Brooklyn in 1896, Adelphi is Long Island's oldest private coeducational university. Today Adelphi serves nearly 8,000 students at its beautiful main campus in Garden City, New York—just 23 miles from New York City's cultural and internship opportunities—and at dynamic learning hubs in Manhattan, the Hudson Valley and Suffolk County, and online.
More than 100,000 Adelphi graduates have gained the skills to thrive professionally as active, caring citizens, making their mark on the University, their communities and the world.